A chance to get the inoculation
---
(Updated 7:41 AM | 8:00 AM | 9:15 AM | 11:22 AM | 5:00P | 8P | EST )
8:00 P – est update
When  you do the math (common core excluded) it works out to 240 doses administered today (as reported by staff @ the FHC to TAM)- The time frame to administer the doses was 9am until 4:30 Pm. First in – Last out.
That is 7.5 hours of time to administer 240 doses as they reported to us – That makes the number of jabs equal to 32 jabs per hour – or roughly 1 per 2 minutes.
Now we have to try and quantify the protocol effort associated with the prescribed process – which to me is still an unknown in totality at this point.
We can make a rational determination of outcome I suppose from the truth as represented by math.
Is this the new normal? Was this the bar we should expect going forward?
Is this in line with other reasonable efforts else where?
Well – we can all make our own mind up I suppose.
In an effort to fill in some of the gaps in time, we asked Councilwoman Susan Gibbs-Thomas to please fill us on what she experienced from 8am until after Noon, while we where preparing and bringing you the first efforts of the event.
Ms. Gibbs-Thomas expresses the same take away we had from this event this morning.
If you have video or a first hand account that you would like to share on this event e-mail at Editor@TalkAboutMartin.com
---
---
5:00P -est update –
As of 4:30 this afternoon your local home town hero clinic workers finished providing 240 vaccines to people from a diverse yet similar demographic. The 65+ inoculations that started this morning at or around 9AM est concluded with a picture of the workers in front of the Corporate Family Center Sign. This is according to our field contributor Tony Z who was there to ask the workers how many doses they administered and to record the photo opportunity.
Tony Z has told us that he is currently working on more first hand account video to help fill in some of the blanks between this morning and now.  Stand By – we will bring you more information tonight as we gather the footprint of the activity that took place today in Indiantown. We will expand on things as time permits,
Many of you have participated in this upheaval with us. We look forward to continuing the dialogue and want to encourage you to stay tuned. There is more to follow.
---
As of 10:30 PM Friday January the 15th there were 18 people that had staked out a place in line for their chance at a free inoculation at the Florida Family Health Center in Indiantown, Fl. By 6AM the following morning hundreds of people were standing in a line that wrapped around the Florida Health Center building and continued well past the bounds of the property.
People came from as far as South Palm Beach County, Jensen, Hobe Sound, Stuart and points in between. There were people visiting friends and family that were from Indiana and Illinois that said they were going to get jabbed today also. Our team counted 21 people who identified themselves from Indiantown in the crowd when we polled them.
We spoke with one man that was near the end of the line that indicated he had made an appointment with FHC for 10AM today and shared his confirmation e-mail with us. Others indicated that they were told reservations were not allowed when they called for details yesterday.
Overall, the mood of the crowd was as cheerful as it could be on a cold January morning before sunrise. Still, many questioned the apparent lack of planning and coordination that was obviously lacking from this effort. Some local residents expressed a concern that the people in the local community may not be able to get the inoculation today because of the transient and disorganized nature of the distribution.
A healthcare worker in line explained how it would have been much more effective to serve a dense concentration of the population of Indiantown to slow the spread instead of spreading the inoculation across a dispersed geography like is being done. This allows for one person in a neighborhood to be inoculated instead of several. Many felt the vaccine should have been designated for Indiantown residents first.
While the first attempt at the distribution seems to be flawed and have a number of issues, people for the most part are grateful that they will be inoculated none the less.
We will continue posting information, pictures and videos as the process unfolds.
Direct Video links to YouTube
Covid Morning Cars << Click Here >>
Covid Line 6AM << Click Here>>
Covid Line 7 AM << Click Here >>
---
---
This comes after a handful of global cases, including an elderly patient in France, where a recipient died within hours of receiving their first-round of the vaccine.
Thus far Norway says it has administered doses to up to 33,000 people, including the elderly, but are already finding it "too risky" for the terminally ill and people over 80 that are in frail condition. Given only 33,000 injected so far, the reported death count is already staggering and is causing officials to sound the alarm:
Norwegian officials said 23 people had died in the country a short time after receiving their first dose of the vaccine. Of those deaths, 13 have so far been autopsied, with the results suggesting that common side effects may have contributed to severe reactions in frail, elderly people, according to the Norwegian Medicines Agency.
But despite the warnings being featured prominently at the end of this week in Bloomberg and multiple other mainstream publications, again we doubt this will do anything in terms of putting the brakes on the rushed vaccine rollout in the US where it's precisely the elderly, frail, and those prone to persistent health conditions that are being urged on by state and federal policies to be first in line. As witnessed this Morning in our Town of less than Five Thousand residents.
Amid increasing calls for suspension of the use of mRNA-based COVID-19 vaccines produced by companies such as Pfizer, especially among elderly people, the situation in Norway has escalated significantly as the Scandi nation has now registered a total of 29 deaths among people over the age of 75 who've had their first COVID-19 vaccination shot.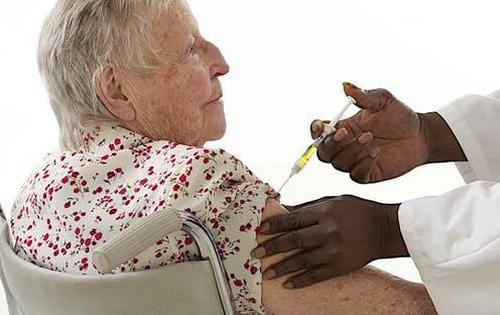 As Bloomberg reports, this adds six to the number of known fatalities in Norway, and also lowers the age group thought to be affected from 80.
Until Friday, Pfizer/BioNTech was the only vaccine available in Norway, and "all deaths are thus linked to this vaccine," the Norwegian Medicines Agency said in a written response to Bloomberg on Saturday.

"There are 13 deaths that have been assessed, and we are aware of another 16 deaths that are currently being assessed," the agency said.

All the reported deaths related to "elderly people with serious basic disorders," it said.

"Most people have experienced the expected side effects of the vaccine, such as nausea and vomiting, fever, local reactions at the injection site, and worsening of their underlying condition."
Pfizer and BioNTech are working with the Norwegian regulator to investigate the deaths in Norway, Pfizer said in an e-mailed statement. The agency found that "the number of incidents so far is not alarming, and in line with expectations," Pfizer said.
However, it's not just Norway as The Epoch Times' Zachary Stieber reports that fifty-five people in the United States have died after receiving a COVID-19 vaccine, according to reports submitted to a federal system.
Deaths have occurred among people receiving both the Moderna and the Pfizer-BioNTech vaccines, according to the reports.
In addition to the deaths, people have reported 96 life-threatening events following COVID-19 vaccinations, as well as 24 permanent disabilities, 225 hospitalizations, and 1,388 emergency room visits.
It's not just the old and frail, in Israel, which proudly lays claim to the greatest vaccination effort in the world (largest percentage of the population inoculated),
As RT reports, at least 13 Israelis have experienced facial paralysis after being administered the Pfizer Covid-19 vaccine, a month after the US Food and Drug Administration reported similar issues but said they weren't linked to the jab.
Israeli outlet Ynet reported, citing the Health Ministry, that officials believe the number of such cases could be higher.
"For at least 28 hours I walked around with it [facial paralysis]," one person who had the side effect told Ynet.

"I can't say it was completely gone afterwards, but other than that I had no other pains, except a minor pain where the injection was, but there was nothing beyond that."
Ynet quoted Prof. Galia Rahav, director of the Infectious Diseases Unit at Sheba Medical Center, who said she did not feel "comfortable" with administering the second dose to someone who had received the first jab and subsequently suffered from paralysis.
---
*Thank you to Marjorie Beary for sharing the States reasoning for non-residency requirements for distribution of the vaccine. She shared a link to the testimony with us and we would like to share it with you.  As Marjorie shared with us. "Florida's Emergency Management Director Jared Moskowitz came out firmly against residency requirements during a meeting of the House Pandemic and Public Emergencies Committee in Tallahassee on Thursday." US News & World Report 15 Jan 2021.